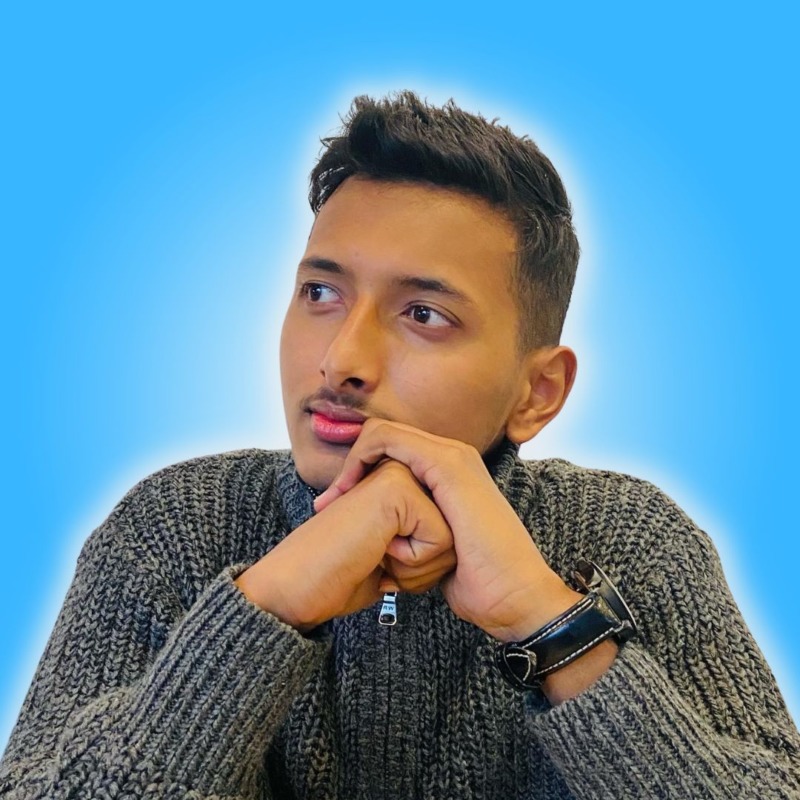 Hello!
I'm Suraj Chaudhary, a purpose-driven individual hailing from Nepal.
I live at the crossroads of technology, web development, entrepreneurship, and social welfare, and I am committed to using my skills and experience to drive positive change.
Let me take you on a journey through my work and accomplishments.
Explore Idea: Where Innovation Meets Opportunity
As the President of Explore Idea, I've had the incredible opportunity to lead a dynamic team of 8.
For over a year, we've organized more than seven events, creating opportunities for students to learn from industry experts. I'm particularly proud of launching "The Reels Stories," a nationwide competition designed to promote the culture of Nepal.
Additionally, I've been fortunate enough to engage with respected guests like former Prime Minister of Nepal Mr. K.P. Sharma Oli, Mr. Narottam Aryal, Mr. Uttam Sanjel, Mr. Sanjog Koirala, and Mr. Rastra Bimochan Timalsena.
Our team has also extended its digital footprint by building a website to reach a larger audience. In parallel, I've worked tirelessly on social media marketing, promoting our message and events through various videos, banners, posters, and more.
High Approach: Cultivating a Love for Learning
In October 2021, I founded High Approach, a platform dedicated to supporting high school students by providing insightful articles and study notes.
So far, I've authored over 100 articles, touching the lives of countless students. Beyond the written word, I've developed web apps such as the Nepali Unicode, Date Converter, and Word Counter.
The culmination of my SEO skills has led the website to garner more than 35,000 page views each month.
Bridge to Literacy: Building Bridges for a Better Future
Since August 2020, I've been a founding member of Bridge to Literacy, an international, UNESCO-partnered, U.S. Department of State-funded, and President's Volunteer Service Award-certified global educational nonprofit.
Our mission is to enable students from underserved communities to learn English. In line with this vision, I've personally taught English to students from Honduras.
Interact Club of Gautam School
My journey with the Interact Club of Gautam School, where I served in various roles, including Vice President and President, has been rewarding.
I was honored as the Interactor of the Year in both 2018/19 and 2020/21. During my tenure, I organized numerous events that doubled our club's engagement and reach, including an "Artificial Limb Distribution" program that provided limbs to 14+ differently-abled people.
Gautam Society for Social Welfare (GASSWEL): Delivering Change
At GASSWEL, I coordinated community projects, helping raise over $2000+ for social welfare, and provided stationery, fans, desks, and benches to students from several rural schools.
Education and Skills
I'm an alumnus of the Gautam Secondary School and currently studying at the Global College of Management, majoring in Accounting and Business/Management.
I'm proficient in Search Engine Optimization (SEO), WordPress, Online Marketing, Operations Management, Web Content Writing, Content Strategy, Leadership, Analytical Skills, Team Leadership, and Project Planning.
That's just a snapshot of my journey so far. My mission is to keep growing, keep learning, and continue making a difference in the world around me. If you're interested in connecting or learning more about my work, please feel free to email me at suraj@surajc.com.
Or you can also connect with me over Instagram, LinkedIn, Twitter, and YouTube.